Slags Open 2014

They said it could not be done, but "Beneriano" became the first player to win a Major 3 times. And not any sort of ladyboy Stableford, but man's golf stroke-play. The 2014 venue was the Addington Court GC in Surrey. Very short, tees in a poor state and the first green must be the most pock-marked in the south of England.
Despite the challenges of the course and the strongest ever field, "Beneriano" put together a golf master-class, playing the final 12 holes in 6 over par to take the trophy after a strong start from "Dork" ended with another choke.
Front Nine
"Albert" started Bubba long, with massive straight drives, irons and accurate putting to take the lead on the front nine. Sadly his challenge was to fall away on the back nine and he finished 2nd.
"Dork" started strongly also. He was 3 over after 7 holes and that included missing 2 sitters for birdie on holes 6 and 7.
Alas for "Dork" a quadruple bogey and a triple bogey on the tiny par 3s (8 & 10) ended another Open challenge for Dork.
Back Nine
"Bernie Steakhouse" dumped his round on the front nine, but rallied later to respectable 5th place with some great golf on the closing holes.
3rd place was a battle between "Scribbins" and "Ballesteroids". "Scribbins" started very poorly with an 8 and 7 to be 6 over after 2 holes, but eventually rallied with great golf on the par 3s to record a nett 73.
"Ballesteroids" played a real 'Open' type round to ground out a nett 73, but sadly lost 3rd place on count-back.
"Beneriano" staved off his remaining challengers with a strong finish in the last 5 holes, with 3 pars and a birdie on the last. The glory was his once more …
Gross/Nett/H'cap/Name
1st – 80, 67, (13) "Beneriano"
2nd – 98, 70, (28) "Albert"
3rd – 92, 73, (19) "Scribbins" (on countback)
4th – 93, 73, (20) "Ballesteroids"
5th – 97, 75, (22) Shitehouse
6th – 95, 76, (19) "Wanger"
7th – 90, 77, (13) "Dork"
Skills
Best Gross: "Beneriano"
Long Drive: "Wanger"
Pin: "Albert"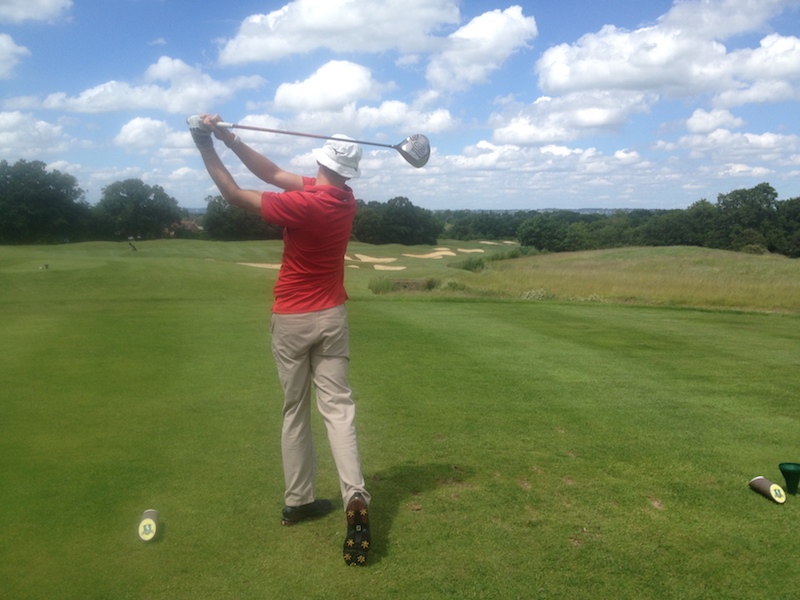 Previous Champions
| Year / Venue | Winner | Report |
| --- | --- | --- |
| 2016 High Elms | Virgil | Report |
| 2014 Addington Court | Beneriano | Report |
| 2012 Lullingstone | Beneriano | Report |
| 2010 High Elms | Wanger | Report |
| 2008 High Elms | Beneriano | Report |