Slags Open 2010

2010 Open: Wanger the ultimate grinder
Shite golf returned to High Elms with a bang this year with some of the worst scores recorded by Slags golfers in many a year.
"J-Wang" became the second Slag in history to do the career slam of Masters and Open events. He has this 2010 Open win to go with his 2005 and 2007 Masters titles.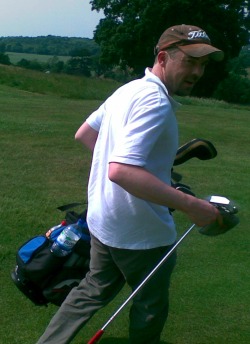 It was a supreme feat of grinding golf from "Wanger". Pure sweat, grim endurance and unrelenting misery. Most surprisingly, he pulled it off on one of his most hated courses.
For also-rans Albert, Dork and Beneriano there was the marvellous spectactle of the Biggin Hill air show in full flight.
Masters champ "Ballesteroids" was cruising to victory (and an unprecedented Masters & Open same year double) until he choked. Blowing his chances with a 10 on the dangerous par 3 13th.
Defending Open champ "Beneriano" (suffering from a vicious chest complaint) started well and was only 2 over par after the first 5 holes. Sadly, he then dropped 15 shots on the next 5 holes and finished 3rd.
"Dork Duval" (playing with a nasty stitch), minced his way around in mini shorts and finished 4th after dropping 13 strokes on holes 7-11. At the 18th he had a chance at 2nd or 3rd place but choked badly laying down the mother of all skinny wedges into the shrubbery.
Albert made history with a mind blowing 129 gross (nett 101) and was a worthy winner of the spoon.
Results
1st : "Jonhard Wanger" (nett +6)
2nd : "Olloir Ballesteroids" (nett +7)
3rd "Beneriano" (nett +9)
Spooner: "Albert" (nett +30)
Best Gross: "Dork Duval" 93
Long Drive: "Dork Duval" 214 yards
Nearest Pin: "Olloir" 39 feet
Flickr Gallery
Previous Champions
| Year / Venue | Winner | Report |
| --- | --- | --- |
| 2016 High Elms | Virgil | Report |
| 2014 Addington Court | Beneriano | Report |
| 2012 Lullingstone | Beneriano | Report |
| 2010 High Elms | Wanger | Report |
| 2008 High Elms | Beneriano | Report |