Der Spiegel FannyLeaks Slags Scandal
2018 Der Spiegel and FannyLeaks expose


A Der Spiegel and FannyLeaks expose has made revealed secret moves by top Slags to form some kind of European super league.
The information was gleaned from the oceans of internal emails revealed by Der Spiegel. According to the emails, Wanger, Duvet and Ballesteroids are seriously contemplating the commercial bonanza of an elite Slags league and examining the sporting and legal complexities of forming it.
Shocking revelations include;
The planned creation of a PGA Slags Super League.
Super League membership of only the Big 3; Duval, Ballesteroids and Wanger
Moving the Slags Masters to a permanent Mid Winter calendar position.
Pre determining the Slags Masters Winner on an eeny-meeny basis.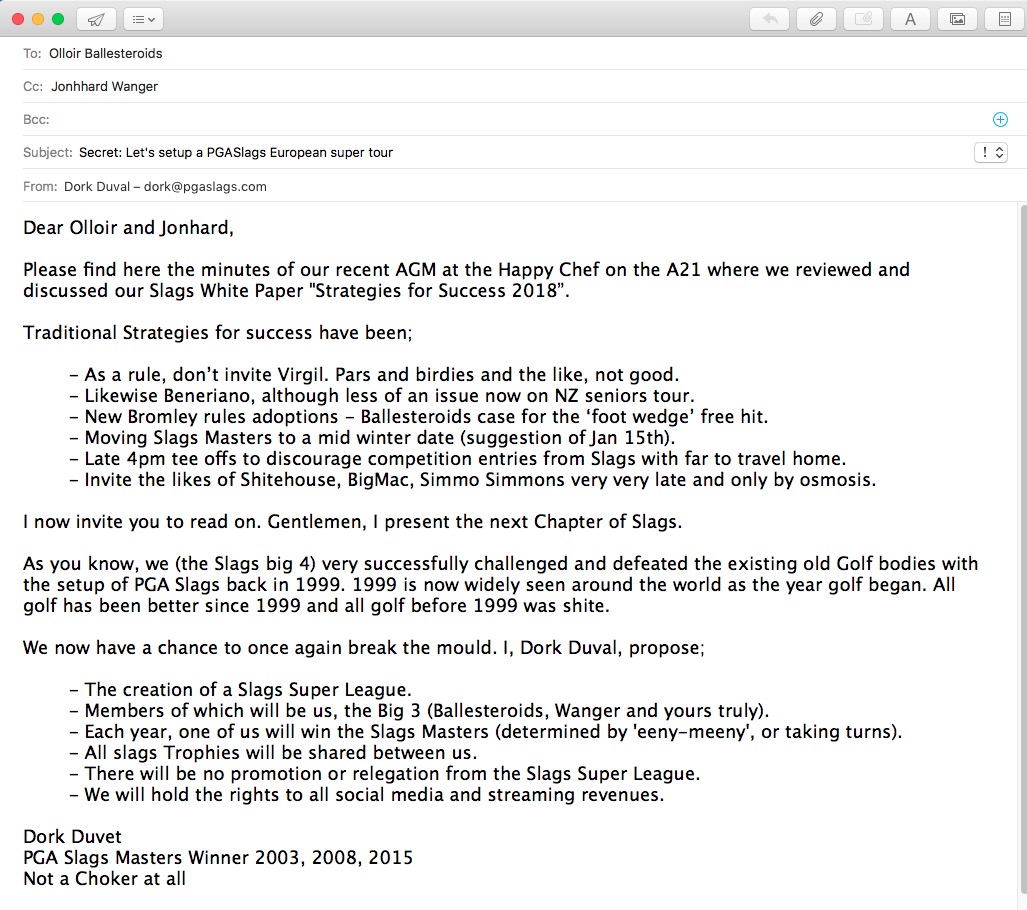 How did it come to this  ?
1999: Formation of the PGA Slags Premier League
Twenty years ago, the PGA Slags Premier League was approved and broke away from the R&A and European Tour in an event described as golf's 'big bang' moment. In return for exclusive broadcast rights on the internet, slags would now get an unprecedented windfall and also the right to impose their own "Bromley Rules".
The traditional big 4 (Duval, Beneriano, Ballesteroids, Wanger) claimed that they thought of it so they should win the trinkets. The main obstacle, as they saw it, was their affiliation to the R&A which had organised golf for over a century.
Pewter and plastic trinkets
A meeting was held at the Happy Chef (on the A21) with TV companies vying for exclusive rights to screen live Slags matches. ITV were the frontrunners, but in a shock move BSkyB, backed by Rupert Murdoch, tabled an incredible bid of pewter and plastic trinkets, for a five-year deal which blew their rivals away. The BBC, who had thrown their lot in with the BSkyB bid, were given the highlights package so they could revive the popular Slags of the Day programme. Greg Dyke was furious as ITV got nothing.
With some of the best slags no longer available on terrestrial TV, some expressed their wider concerns about exclusive deals, including Sebastian Coe, the newly elected Conservative MP, who said: "I think it is wrong that only two million satellite dish owners get access to such major slags."
2011: Slags Break the Internet
In 2011, Slags broke new ground by live streaming the entire 2011 Slags Masters on the internet. The production values were breathtaking. Stunning video and audio, and camera angles positioned in places never before imagined, such as Dork's Colon-cam.
The PGA Slags brought in the best broadcast journalists available at the time. Names included Richie Benaud, Tony Griegg and Sir Geoffrey Boycott.
Going Viral
Naturally, the Video went viral, peaking at a paradigm-shifting 64 views (as of late 2018). The big 4 of PGA Slags became aware of the potential enormous revenues possible through streaming services like Netflix and they registered the domain SlagFlix.
---
In other news