Jonhard Wanger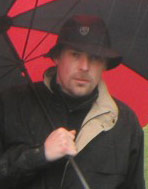 Rank: 3
Staunch and Stoic. Plays for himself; a lone wolf and bareback rider.
Fave crap shot: Shanks, low mungo hook shots, wedged thins and fats.
Golf fashion crimes: Plus fours, Plus fives, Plus sixes, Deer Stalkers …
Weakest areas: Mentally shat, inner game weakness, mental mind. Not really a team player. Brings others down to his level.
Masters: Winner 2005, 2007
Open: Winner 2010