Slags Masters 2012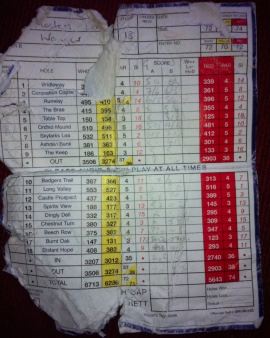 Sadly, this was a complete wash out….literally, as Dork managed to put his plus fours through a hot wash with the score cards still in his pocket.
The best forensic scientists in the whole Gipsy Hill area have examined what remains of the cards and established the following results:
The Scores
1st: Virgil Vaughny – 0 hcap – 35pts (gross 72 – new SLAGS record)
2nd: Stone Cold Cockpiss – 12 hcap – 29pts
3rd: Jonhard Wanger – 15 hcap – 27 pts
4th: Dork Duval – 10 hcap – 24pts
5th: Sergio Wankov – 18 hcap – 20pts
6th: Uncle Albert McMonty – 24 hcap – 15pts
Luckily, Virgil Vaughny covered the event in his seminal autobiography "Calling the Shots".
We exclusively reproduce extracts of this tedious wankfest below ….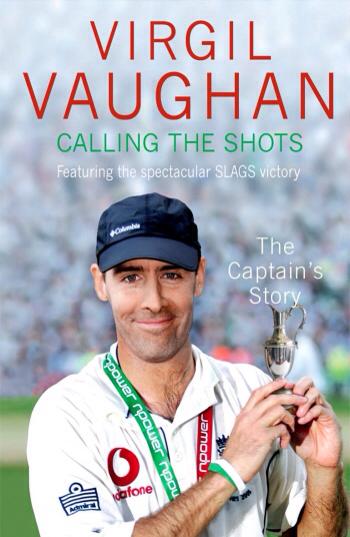 Chapter 1 – My early life
I was born in Eccles, Lancashire and had a wonderful childhood. My first memory of cricket is when I was 10 years old, hitting balls on the boundary while my dad was playing for Worsley in the Manchester Association League.
It was there I was discovered by the legendary Yorkshire leg spinner Gerry Anderson, who invited me to join the International Rescue XI where I was captain, opening bat, first change bowler and pilot of Thunderbird 2.
I met my lovely wife Lady Penelope and we were married on the exotic Tracey Island in the Caribbean between test matches in 2004, where I was captain as England beat the West Indies away for the first time since 1968. We followed that by winning all seven home Tests against New Zealand and the West Indies, before beating South Africa away for the first time since 1965. In the 2005 home season, England easily beat Bangladesh in a two-Test series, before facing Australia for the Ashes. I scored a majestic 166 in the third test and single handedly defeated the Hood, saving the world from tyranny and bringing home the urn for the first time since the 1986-87 series down under.
Injuries were taking their toll, though, and my running between the wickets became a little wooden. I resigned the England captaincy in 2008, blubbing like a little girl, and retired from all forms of cricket in 2009 to follow the well trodden path of former England captains into the commentary box and onto the golf course.
I am proud of my record for England:
Test Matches – 77
Runs – 5585 at an average of 42.96
Centuries – 18
One Day international rescues – 32 episodes
Villains defeated – Warne, Ponting, McGrath, the Hood.
Chapter 2 – The 7th of July 2012
My old mates Blowers, Boycers and Greggy have a long association with south London's premier amateur golf society, having never been invited to commentate or play, but rocking up anyway because they just can't stay away from top quality sport.
I memorably won the SLAGS Masters in 2009 and was heavy favourite to win in 2012, despite being stitched up by the handicap committee and forced to play off scratch.
Showing true northern grit, I won again in 2012. As there are no official records of the event, let's assume I won the nearest the pin too (my shot to the 5th was F.A.B.) and that I won the longest drive too, crunching my Taylor Made international rescue club 20 yards past my nearest challenger.
Chapter 3 – My magnificent barnet
I became poster boy for the Advanced Hair Studios in 2010. What people don't realise is that I have an amazing natural head of hair. Sadly, it's mostly over my arms, back, shoulders, legs, chest and nadgers.
When Shane Warne first approached me and told me I could get more cash than Hansie Cronje could stash in a brown paper envelope just for promoting the strand by strand method … (you'll have to buy the book for more of this tedious shite)