Slags Masters 2004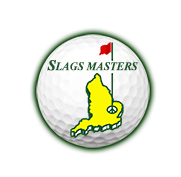 Here's the SP …..
1st Foxy Scribbins 32 points
2nd Rupert from the ELAGS 31 points
3rd Jonhard 30 points
Joint 4th 24 points – Ol, Dork, Steakhouse
5h Albert 21 points
6th Jules 18 points
7th Jon Head 11 points
8th and WOODEN SPOON to Paul Funnel, Jon's mate 6 points
Fantastic day, 80 degrees no wind. The SLAGS did not let themselves down, we were on the whole SHAT!
Olloir Ballesteroids
More from Olloir
Rupert picked up 2nd place I think, plus also longest drive and closest to the Pin…Jonhard took 3rd place and Paul S took the jug and 1st place.
We had the shite tankards that year courtesy of the weeman!! (for all prizes including closest to the pin and Longest Drive)
… sounds like a year to forget.