Slags Masters 2003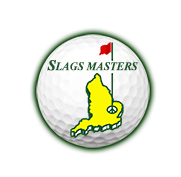 Send us info, we don't really know what happened back in 2003 … .. we do know that it rained.
And we do also have a couple of post match communications from President El Nino and Handicap Supremo Dork Duval …
President's Post Masters statement 03/11/2003
Thanks to all for coming and making it such a fabulous day. There was a real Dunkirk spirit out there and at times it was like being back in the blitz, especially with Danny around.
I really enjoyed the chance to get full use of my superior quality rain gear after a year of drought conditions. In the end it all boiled down to who had the most bloated handicap on the day, and why not ?
Young Dork woke up to clouds and rain, and it fell to him on his first day as SLAGS Chairman elect, to award himself a massive 2 points swing on the handicap committee's initial calculation.
Dork is living proof that if you shoot 4 over par rounds for long enough, a 12 handicap eventually will win you the SLAGS. Despite failing to win the nearest the pin for only the 2nd time ever, and a pitiful
effort on the long drive hole, he put his best foot (wedge) forward and got his pencil working the old magic to seal a memorable victory.
Former champions Alligan and Olloir Hillairios fell by the wayside. The Leicester fox, big Paul Scribbins regained the long drive and Jonhard Wanger lasered in for the nearest the pin and 2nd place (on count back).
At the blunt end, play was spectacularly poor. Luke Venereals again came last and will be looking to receive strokes from Danny 'Pablo Aimar' Afroman in next years showpiece. Two time loser has now matched the legendary exploits of shite golfer extraordinaire Corin 'Hugh Grant' Vestey.
Distinguished visitors from London's elite golf clubs gave the competition a touch of class but sadly rumours of Monty turning up to take his 1st Major proved to be false.
FROM THE OFFICE OF THE PERSONAL PRIVATE SECRETARY OF SLAGS CHAIRMAN DORK DUVAL : 12/11/2003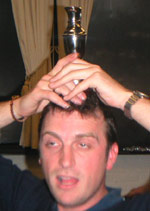 It is with dismay that I find myself having to comment upon base allegations that have been smeared around SLAGS inboxes over the past few days. These allegations are without any foundation whatsoever. I must however go on record to state that even if the allegations were true (which they are NOT) then SLAGS Chairman Dork Duval was in no way involved.
Some months ago, I was asked by a senior member of the SLAGS Handicap committee whether Dork Duval was a bandit. I replied that Dork Duval was of unimpeachable character and while on occasions he might be a complete and utter ar$e-bandit, he was not a bandit.
Furthermore, Dork and Benario Coldpiss, SLAGS President, would never be caught in an embarrassing situation like shafting a minor SLAG by making them play off a handicap much lower than their own ability suggested fair.
Anyway none of this happened, so I don't know why I'm talking about it anyway.