Slags Masters 2000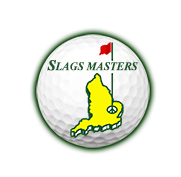 The SLAGS® Masters 2000 took place at the traditional venue of Lullingstone GC, following rejections from Augusta, St Andrews, Wentworth and the Belfry.
A large field (9 players) of (piss-poor) quality golfers gamely set out to battle for the prestigious and World famous "Bronze Bollock on a Stick®" trophy.
Many thanks to Iron Balls McGinty, Half Pint Whitting and last and least Sir Daphne of Fordchestershire for not bothering to turn up and ensuring that the event was almost bigger, but certainly better than last years event.
The players were grouped as follows:
GROUP 1 – (Spoons Challenge)
Johnhard Wanger – (Senior Pro)
Rear Admiral Vestey – (Heart-throb)
Diddy Dave James – (Eurotrash)
GROUP 2 – (Young Contenders)
Brenda Cockpiss – (Senior Pro)
Bernie Steakhouse – (Weightwatcher)
Olloirio Dawson – Creek (Shamed Drugs Cheat)
GROUP 3 – (You can call me Al)
Dork Duval – (Senior Pro)
Popeye Balfour – (Bandit)
Albert Tatlock – (Senior Citizen)
Nearest the Pin
The "nearest the pin" was particularly close, with none of the first 7 Slags anywhere near the green. Albert must have thought he had the trophy in the bag when he landed his ball 1 inch onto the front of the green. However, with the last shot of the day, Al Balfour produced a beauty with his 9 iron, which just managed to hold on
to the side of the green.
Result : Balfour – 22 feet
Longest Drive
The longest drive was once again won in controversial circumstances, with Simon Stenhouse using a borrowed wankstick to find the left
hand side of the fairway. Heavy rain then intervened to make it difficult for the big hitters in the last group to find a decent length. Pauline came closest and will doubtless rant on about how he was robbed for months to come.
Result : Steakhouse – 270 yards
The Main Event
The most prized trophy in sport was once again fiendishly contested. It was the one they all wanted and even the dreadful weather conditions were used to help the scoring. Ultimately, it came down to two players.
Yes, Diddy Dave James and Rear Admiral Vestey, both having walked off the course to protect their record low totals, tied on 4 points.
Vestey though, somehow hung on to the coveted "spoon of shame", once again by the dodgy countback rule; his magnificent octuple-bogey 12 at the par four 3rd being enough to clinch the prize.
Oh yeah…….The Masters
But who would be crowned Slags Masters Millennium Champion and
walk of with the Bronze Bollock on a Stick® ?
At the halfway stage, there were still 6 Slags who could win.
The rest had gone home….
After 12 holes, only 5 points separated the 6 Slags, with positions as follows:
Popeye (25pts), El Nino (24), Albert (24), Walrus (23), Duval
(22), Dawson-Creek (20)
But there was no stopping Popeye as he reached for the spinach to card 4's at the next 5 holes and wrap up the event. The full results were:
| | | |
| --- | --- | --- |
| Position | SLAG | Points |
| 1 | Popeye Balfour | 40 |
| 2 | El Nino | 36 |
| 3 | Brick Shithouse | 35 |
| 4 | Albert Tatlock | 32 |
| =5 | Olloirio Dawson-Creek | 31 |
| =5 | Dork Duval | 31 |
| 7 | Jonhard Wanger | 10 |
| =8 | Diddy Dave James | 4* |
| =8 | Rear Admiral Vestey | 4* |
* = New Slags record low score