Slags Masters 1999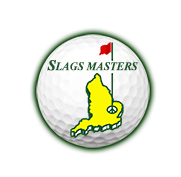 Lullingstone Golf Course, Chelsfield, Kent
On the 22nd May 1999 at Lullingstone Golf Course, some of the world's poorest golfers assembled to take on the challenge of the inaugural SLAGS Masters. In glorious Kentish sunshine and record temperatures, the wangsticked gladiators gamely trundled through the valley of death.
After just a few holes, some of the field were glassy eyed with determination and concentration. Or was it constipation ? A good clear out beforehand at the 19th hole is always advisable.
The quality of golf ranged from below average to extremely poor and sometimes abysmal. From the sublimely ridiculous to the ridiculously sublime. The hushed galleries were sometimes mesmerised, sometimes traumatised. Gasps of hysterical laughter and heartfelt cries of 'Cancer !' echoed across the fairways.
A stewards enquiry was needed to ascertain how the event was won by such a huge bandit. The handicap committee resigned on mass.
Rotund Man U fan Bernie 'Walrus' Steakhouse enjoyed another piss poor sporting event that day and was unable to attend. Fellow bloater, Simon 'Betty' Ford pulled out at the last minute and left a nasty taste in the mouth.
Roll of Honour / Dishonour
1st
Place

  

Albert big Monty

44 points

2nd
Place

El Nino

36 points

3rd
Place

Dork Duval

25
points (count-back Pars)
4th
Place

 

Olloir Ballesteroids

25
points

Spoon of Shame

Rear Admiral Vestey

(count-back
Triple Bogeys)
Longest
Drive
Iron Balls McGinty

 

292
yards
Nearest
Pin

 

Dork Duvet

 

18
feet
Unofficial Award Nominations
Rookie
of the Year

 

Diddy
James

Happy Gilmore !

Comedy
Shot of the Day
Jonhard
Wanger
1st, 2nd and 3rd
prizes for
his efforts at the 18th Tee
Handicap
Shafting of the Day

Chris Solly 

Could
have been a contender, but turned out to be shite. 24 handicap revised to
28
Most
Flukiest Prick Award

Iron
Balls McGinty
Freak
granddad shot off the hosel and scuttled it 300 yards just off the
fairway. Steward's incompetence handed him the silverware
Best
Work of Fiction
Albert
Tatlock

 

His
scorecard